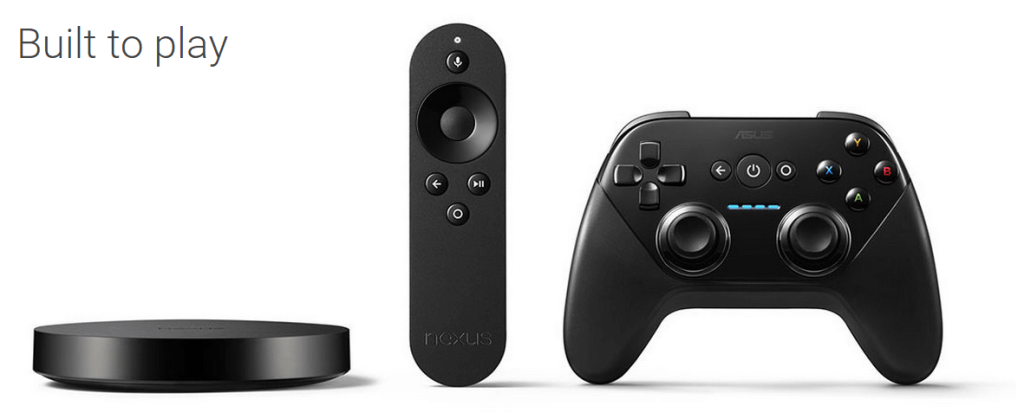 Google has announced the Nexus Player, Google's 2nd attempt to bring Android to your big screen this time including gaming functionality. 2nd attempt? Yes, Google TV was their first attempt at bringing Android to your big screen via pass-through similar to what the Xbox One can do which is work with your TV and Cable provider to enhance your experience. From what I've seen the Nexus Player is more of a play on Apple TV, Amazon Fire TV, etc. bringing a seamless experience from your TV to your tablet or mobile phone. Nexus Player comes with the ability to use Google Cast, search your media with the voice control on the remote or challenge a friend to a game with the game controller(sold separate)
Under the hood of the Nexus Player you'll find a 1.8GHz Quad Core, Intel Atom with Imagination PowerVR Series 6 Graphics 2D/3D Engine, 1GB RAM, 8GB storage, MIMO 802.11ac 2×2 Wireless, and Bluetooth 4.1. You'll also find a HDMI out port, Micro-USB 2.0 and 18W DC power port. Overall dimensions are 120mm x 120mm x 20mm.
Out of the gate there's already a handful of apps available including Plex, Netflix, Crackle, Hulu Plus, Youtube, Google Movies & TV, Google Music, Pandora and more.
Rumor is that it will be available for $99 with the gamepad running you an additional $39 with pre-orders starting October 17.