Freebies
Mediaputer Product of the Year 2014
Mediaputer Product of the Year 2014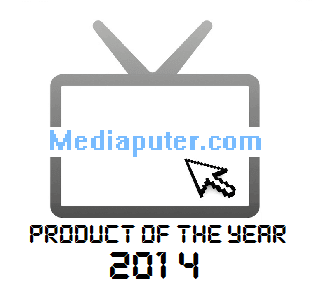 Its been just over a year since I started Mediaputer, it's where I and others can share our knowledge of all things home theater with a HTPC focus.  To me a product of the year is something I truly couldn't live without and since it's our first I wasn't limiting it to the year 2014.
It would prove difficult as among my choices would be Chromecast, Plex, Media Browser, XBMC, Amazon Fire TV, Raspberry Pi, Roku Streaming Stick and the list goes on. I narrowed it down to the items that I use everyday which helped but I also wanted to consider the company behind the product which made my choice easy.
Mediaputer's product of the year 2014
Silicon Dust HDHomeRun Prime CableCard TV Tuner
The HDHomeRun Prime has 3 tuners and works with most cable TV providers as long as they offer a cablecard. It's easy to set up and is network attached which means no dedicated computer is required unless you want it to act as a DVR as well. It allows you to watch content on your local network (via app, Media Browser or DLNA) on just about any phone, tablet, gaming system, smart tv or computer. Follow the steps for use with Media Browser and you can watch, set recordings and more outside your local network. Need more tuners? The HDHomeRun Prime can be stacked to add as many as you need; each tuner provides the ability to stream or record on one device at a time. For example if you have 3 tuners you'll only be able to stream/record 3 different channels at one time.
No cable TV? Just use a HDHomeRun Dual or HDHomeRun Plus you can tune into 2 local channels at a time and stream/record them just as you can with the HDHomeRun Prime. The Plus and Dual are also network attached and don't need a dedicated computer.
Silicon Dust brought the first tuner on the market to be network attached which didn't need a dedicated pc to be on and didn't need the use of Windows Media Center. Silicon Dust stands behind their products as in the case where they ran into a cert issue with the Motorola MTR700 TA (Some cable providers require you have one of these along with a CableCard – Both are usually provided for free). Silicon Dust took on the cost of remedying the issue and not wait for Motorola to do so, something that we don't see these days.
I approached Silicon Dust with news of the product of the year nomination and while my expectations for a response was low I was once again blown away by this amazing company. They've provided me with a HDHomeRun Prime, a HDHomeRun Plus and a HDHomeRun Dual to giveaway just in time for the holidays. Thank you Silicon Dust.
Here's what we're going to do, since there are folks with cable and folks without I'm going to split the giveaway one raffle for the HDHomeRun Prime and one raffle for the HDHomeRun Dual and HDHomeRun Plus. For the Dual/Plus raffle I'll select two winners, first one will get the Plus, second the Dual.
Giveaway ends December 15th, 2014 at 12:00 ET and will be limited to US Residents excluding Alaska and Hawaii. Winner will be contacted via email from @mediaputer.com and must respond within 24 hours in order to claim the prize.
a Rafflecopter giveaway
a Rafflecopter giveaway
Thanks again Silicon Dust and Happy Holidays to all my readers.