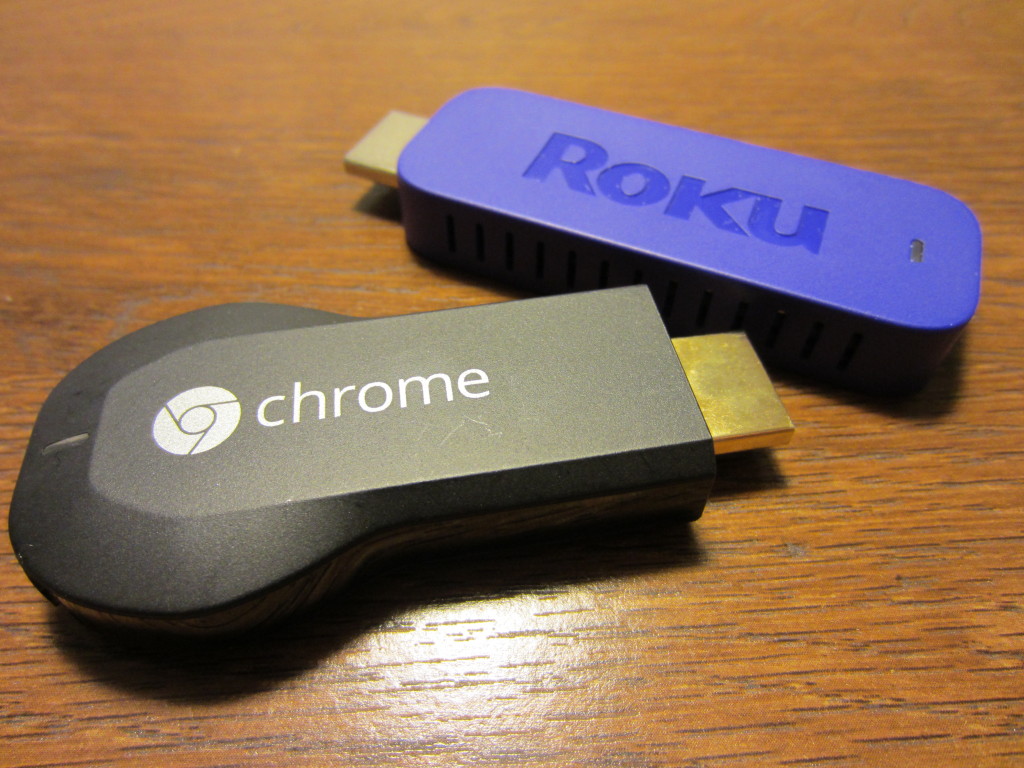 Let the battle of the streaming sticks begin with the recent release of the Roku Streaming Stick. But does it have what it takes to stand up to Chromecast? For a bit of background I've had my Roku Streaming Stick for almost a month now and my Chromecast for a few months.
Let's get it on…
When Chromecast was released I was a bit skeptical if it would suffer the same fate as Google TV. As more application support rolled out for Chromecast my concern began to diminish, at this point it's safe to say that Google's $35 Chromecast is here to stay. It's my personal opinion that Chromecast has only two flaws – Chrome tab casting is only supported from a computer and you need a device(Computer, Tablet, Phone) to stream content to a Chromecast. The fact you need a device like a phone, tablet or computer to stream to Chromecast might be a downside for some looking to transform a TV into a smart TV. For the price and growing community of applications, Chromecast is a tough competitor to beat.
When the Roku Streaming Stick was announced the thought of a Roku/Chrome cast hybrid was quite appealing. It's about half the the cost of a Roku 3, came with a physical remote, and didn't need a phone, tablet or computer to stream from. The Roku Streaming Stick is only $15 more than a Chromecast and addressed one of my cons of a Chromecast. Initially I was quite happy with the Roku Streaming Stick as the only issue I could find was peformance issues in Netflix, which can be seen in my video review. Applications like Plex, Media Browser, Youtube, Amazon VOD, etc. did not have these performance issues, so as far as I could tell it was just Netflix on the Roku Streaming Stick. I told myself I could accept it as I'm sure a fix was on the way or would be in the future. That's before additional issues began to occur such as complete lockups that required a power cycle of the Roku Streaming Stick. At times the physical remote became unresponsive as well, forcing me to either power cycle the device or use the app on my mobile phone until I could power cycle the Roku Streaming Stick. These issues weren't a daily occurrence but enough that the WAF(Wife Acceptance Factor) began to decrease drastically. I might have received a defective device but the damage was already done and I was forced to return the Roku Streaming Stick and eat a $5 restocking fee from Amazon. These issues aside(hopefully only specific to my device), the only con I could come up with was the limitation of what you could cast from a device – pictures, videos and music; however, anything you couldn't cast chances are Roku had a native app you could install and run directly on the device itself.
Overall, if the issues I experienced are only specific to my defective device the Roku Streaming Stick puts up quite a fight compared to Chromecast. It's my opinion that Chromecast comes out on top over the Roku Streaming Stick for various reasons that include a lower price, stability, and a growing community of supported applications.
I've reached out to Roku to provide me with a press kit to re-test the Roku Streaming Stick to see if the issues are indeed specific to my previous device.
This slideshow requires JavaScript.